Given the rapid pace at which the hospitality industry is adopting digital solutions, Baltic Beach Hotel's implementation of Qrunch ordering automation solution is one such success story.
Learn how hotels started their digital transformation of the guest service with Qrunch.
Baltic Beach Hotel & SPA is the only 5-star luxury private seaside resort located in Jurmala town which is about half an hour away from Latvian capital Riga. Envisioned for both leisure and business travel, the property boasts 165 deluxe rooms and suites, while also offering a vast array of services with more than 400 luxurious SPA and relaxation options. It has remained one of the leading resorts in Latvia for more than 40 years now, welcoming guests from around the world with heart-warming service and wholehearted hospitality.
Going into the first half of 2020, Baltic Beach Hotel, like many resorts, had to face new challenges caused by the pandemic. In addition to an overall loss of revenue due to COVID-19 closures and restrictions, the resort was also struggling with hiring enough staff. At the time the hotel was looking for ways to use automation technology to drive guest value and increase revenue while also maintaining on-site safety and social distancing norms.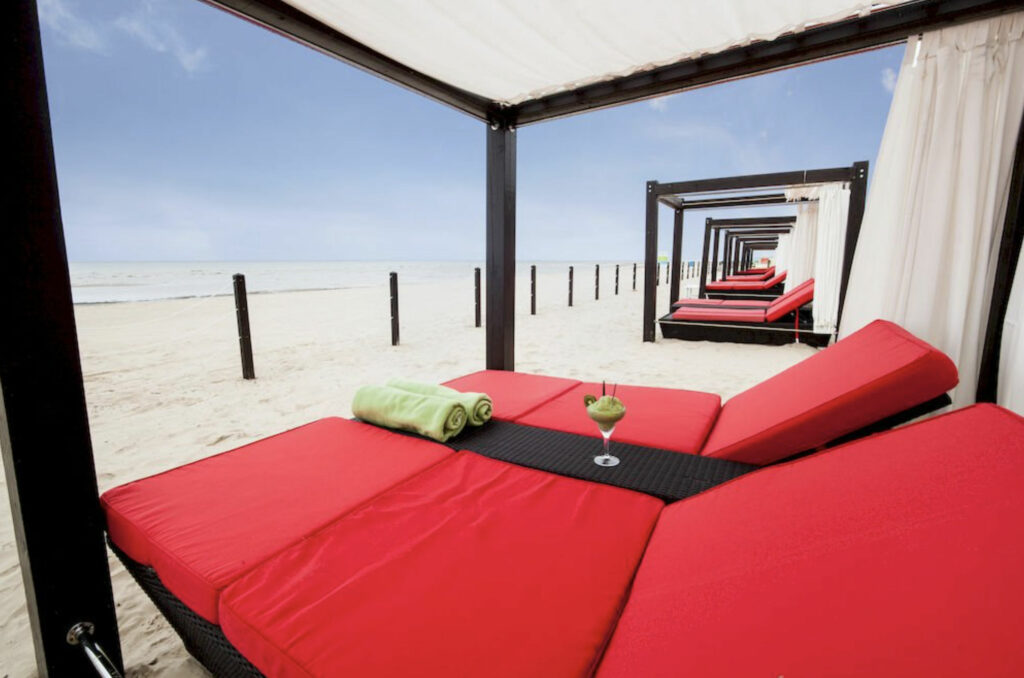 Qrunch on beach
Prior to adopting Qrunch, the staff at Baltic Beach Hotel & SPA carried out the order processing operations manually. It was in the summer of 2021 when Baltic Beach Hotel & SPA started its digital journey with Qrunch. QR code menus were used to serve guests at the hotel's beach sun lounge area.
One of the major immediate improvements the hotel's management saw was in the service's quality and speed. Guests were now able to place their orders without the need for staff to always be present at the beach area. This helped to reduce request processing and waiting times. Once the order was placed, the staff could see it in the system right away and serve the guests much quicker and with consistent wait times.
Upon realising how efficient automated operations were, Baltic Beach Hotel & SPA decided to adopt Qrunch for room and restaurant orders as well. The decision was also quite timely as with summer being over, came autumn with its harsher dining safety restrictions.
Room service, but 21st century way
For Baltic Beach Hotel & SPA, what started out as a partial solution soon led to a complete digital transformation from manual order capture and processing to the Qrunch automated ordering system.
After using Qrunch for a while, Baltic Beach Hotel & SPA also switched on integration between the hotel's POS and Qrunch's system. Such integration helped to save staff time as orders were captured and saved to the hotel's POS and PMS automatically. Now, the order charging to rooms was taking no time at all.
Ever since then Baltic Beach Hotel & SPA has been actively increasing and extending their usage of Qrunch on the territory of the hotel's property. With the level of flexibility the platform has, it was possible for them to create a custom menu to serve guests at a special VIP musical event.
Within a short time of the platform's usage, Baltic Beach Hotel & SPA has witnessed the power of automation and its positive impact on guest service and staff efficiency.
Ways in which Baltic Beach Hotel benefits from Qrunch
Order processing time reduced. Instead of spending several minutes on manual order inputting, staff can process guest requests and inquiries within seconds with just a single tap on the tablet.
Staff productivity and efficiency increase. By cutting out the manual order processing, the hotel managed to save numerous man-hours and boost staff efficiency.
2x room orders. After adopting the Qrunch platform, Baltic Beach Hotel & SPA's saw a revenue increase with the number of room orders doubling.
Automated data collection. Gathering feedback from guests and managing information was made easy with Qrunch by eliminating the need to process data manually.
80% adoption rate. The new technology was greatly welcomed by the guests as the adoption rate of the Qrunch platform reached 80%.
Instant customer support. Qrunch platform provided a channel that allowed seamless communication between the staff and guests.
100% elimination of manual input errors. Guests submitting their orders and inquiries via smartphones helped to eliminate the staff error factor and lower the number of complaints.
---
Want to find out how Qrunch could improve your hotel's guest service and revenue?
Get in touch: https://qrunch.eu/contact-us